Fire and Wildlife
AN INFORMATION EXCHANGE ON FIRE AND WILDLIFE
Greg Corace (Principal Investigator)
Lindsey Shartell (Collaborator, Minnesota Department of Natural Resources, 218-328-8870)
Shelby Weiss (Collaborator)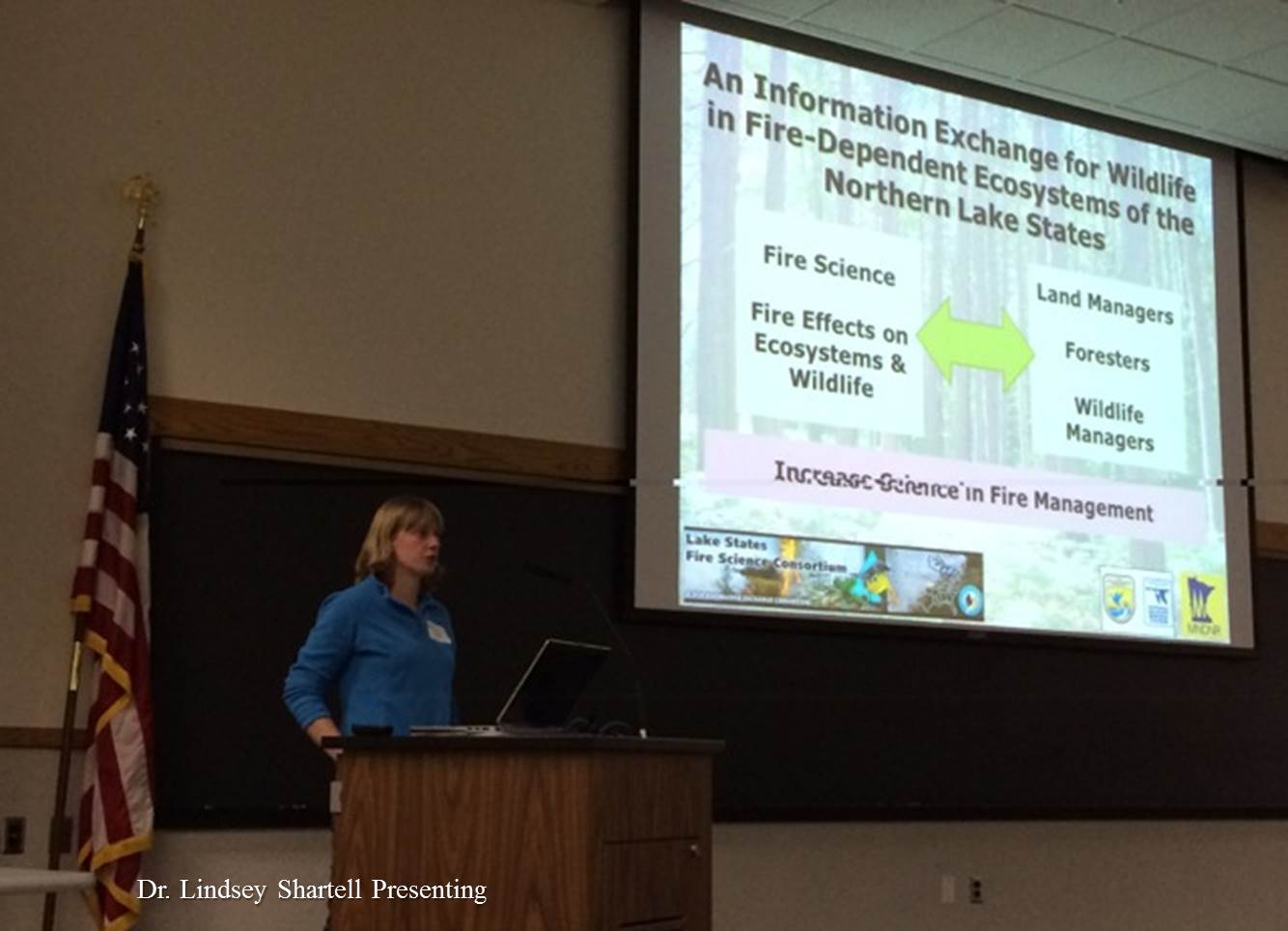 Goal
To enhance our existing understanding of disturbances, vegetation, and wildlife and promote the integration of this knowledge into the management of fire-dependent ecosystems in the Lake States.
When are Wildlife Species Considered to be Fire-Dependent?
We consider wildlife species whose regional distribution and abundance were historically (or are currently) linked with fire-dependent ecosystems to be considered fire-dependent.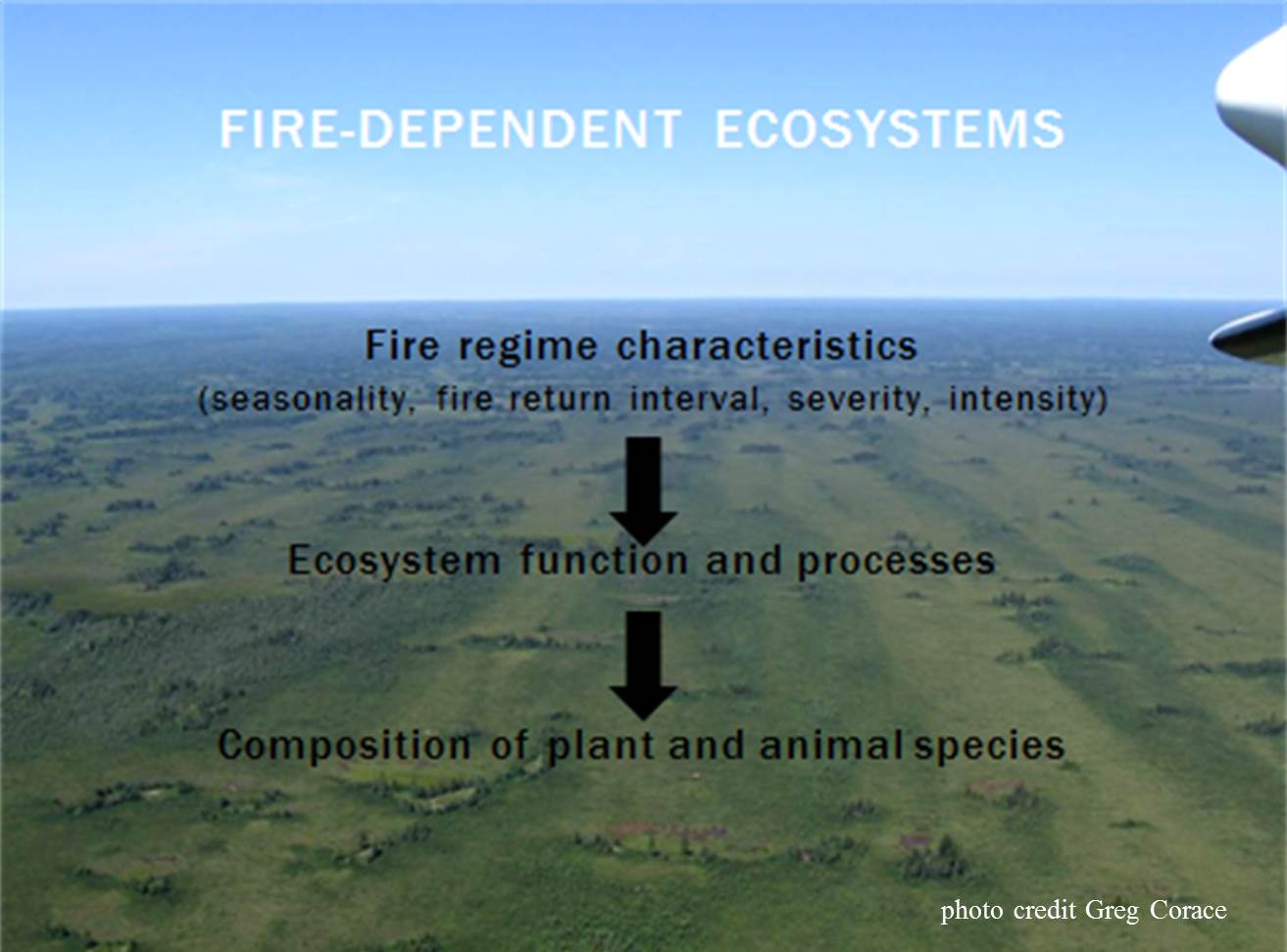 FIRE-DEPENDENT ECOSYSTEMS AND WILDLIFE: WORKING TOWARD A BETTER UNDERSTANDING IN THE NORTHERN LAKE STATES

SPECIES FOR ALL STATES, 2016
SPECIES BY HABITAT TYPE, 2016

Fire-Dependent Ecosystems and Habitat Types
Fire-dependent ecosystems can be defined as those in which composition, structure, and function changes when fire is removed. In the northern Lake States, a number of fire-dependent ecosystems (as defined by the literature) can be found. Many of these ecosystems are dominated by upland and lowland coniferous tree species, but other fire-dependent ecosystems include other, non-forested ecosystem types such as open wetlands. All these fire-dependent ecosystems differ, however, in characteristics of fire, including fire return intervals, fire cycle, fire type, etc. Some ecosystems are characterized by fire return intervals that may be as great as 150 years, while others may be closer to 15 years. Some ecosystem types, such as red pine, have infrequent, high severity, crown fires and more frequent, low severity, surface fires. Moreover, fire is a significant ecological process, but not the only one shaping ecosystem patterns and processes. For instance, in open wetlands and peatlands fire often interacts with local weather and hydrology to shape vegetation communities. In all, these fire-dependent ecosystems differ from others ecosystem types, such as northern hardwood forests, which have fire return intervals on the order of 500 years and for which other disturbances (acting on other temporal and spatial scales) tend to be the primary force shaping the biomass.

Dry Coniferous Forest
Great Lakes Jack Pine Forests

Red Pine-White Pine Forests (with frequent fire)

Red Pine-White Pine Forests (less frequent fire)
Mesic Coniferous Forest
Great Lakes Spruce-Fir Forests

Minnesota Spruce-Fir Forests (Adjacent to Lake Superior and Drift and Lake Plain)
Wet Coniferous Forest
Conifer Lowland Forests (embedded in fire-prone ecosystem)

Conifer Lowlands Forests (embedded in fire-resistant ecosystem)

Black Spruce Swamps

Muskegs

Poor Conifer Swamps

Rich Conifer Swamps

Tamarack Swamps
Dry Mixed Forest
Dry Deciduous Forest
Open Wetland
Bogs

Patterned Fens

Shore Fens

Northern Sedge Meadows

---
---
Links to all Research Briefs on Fire and Wildlife (through April 2018):
Multiple Species:
The 1976 Seney (Walsh Ditch) Fire and Wildlife
Written by: Rhiannon Jakopak (Applied Sciences Program Intern, Seney NWR)
Birds:
Fire and Black-Backed Woodpeckers in Upper Michigan
Written by: Rhiannon Jakopak & Julia Polasik (Applied Sciences Program Interns, Seney NWR)
Birds, Mixed-Pine and Fire In Eastern Upper Michigan
Written by: Dawn S. Marsh (Applied Sciences Program Intern, Seney NWR)
Marshbirds and Fire in the Northern Lake States
Written by: Shelby A. Weiss (Applied Sciences Program, Seney NWR)
Bird Communities and Stringers
Written by: Shelby A. Weiss (Applied Sciences Program, Seney NWR)
Mammals:
Large Herbivores and Fire in Northeastern Minnesota
Written by: Shelby A. Weiss (Applied Sciences Program, Seney NWR)
Small Mammals and Fire in Northeastern Minnesota Mixed Conifer-Hardwood Forest
Written by: Shelby A. Weiss (Applied Sciences Program, Seney NWR)
Regeneration of northern white cedar deeryards in Upper Michigan
Written by: Emily Caretti and Jessica Miesel (Michigan State University)
Amphibians and Reptiles:
Fire Effects on Amphibians and Reptiles
Written by: Shelby A. Weiss (Applied Sciences Program, Seney NWR)
Insects:
Windstorm and Fuel Reduction Effects on Ground Beetles in a Sub-Boreal Forest
Written by: Shelby A. Weiss (Applied Sciences Program, Seney NWR)
Effects of mechanical and prescribed fire treatments on jack pine regeneration and arthropod communities in the Baraga Plains
Written by: Emily Caretti and Jessica Miesel (Michigan State University)
Fish:
Wildland Fire Does Not Affect Mercury Levels in Fish
Written by: Tracy Hmielowski
(American Society of Agronomy * Crop Science Society
of America * Soil Science Society of America)
---
Links to all Webinars on Fire and Wildlife (newest to oldest through April 2018):
March 15, 2018
Monitoring the response of moose to large fires in Minnesota
Mike Schrage, Wildlife Biologist, Fond du Lac Resource Management Division, Cloquet, MN
January 18, 2018
Prescribed fire in pine stands, tree mortality and the response of insects and pathogens
Steve Katovich, Forest Entomologist, USDA Forest Service, Forest Health Protection

October 19, 2017
Wildlife implications across snag treatment types in jack pine stands of Upper Michigan
Shelby Weiss, School of Environment and Natural Resources at Ohio State University

March 16, 2017
Survey and Analysis Design for Wood Turtle Abundance Monitoring Programs
Donald Brown, School of Natural Resources, West Virginia University, Morgantown, West Virginia / Northern Research Station, US Forest Service, Parsons, West Virginia

March 27, 2014
Characterizing Wildlife Communities of Fire-Dependent Ecosystems of the Northern Lake States and Exchanging Research, Inventory, and Monitoring Knowledge and Ideas
R. Gregory Corace, III, U.S. Fish and Wildlife Service, Seney National Wildlife Refuge
Lindsey M. Shartell, Minnesota Department of Natural Resources
Dawn S. Marsh, U.S. Fish and Wildlife Service, Seney National Wildlife Refuge

February 13, 2014
Multi-scale Responses of Eastern Massasauga Rattlesnakes (Sistrurus catenatus) to Prescribed Fire
Matthew D. Cross
Bowling Green State University

December 16, 2010
Fire, Vegetation, and Birds in Northern Sedge Meadows - Lessons Learned At Seney NWR
J. Austin & G. Lindsay