Webinar Archive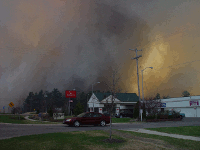 Making Sense of Wildland Smoke
Gary Curcio (US Forest Service AIR FIRE Team), Kari Fleegel (NWS Incident Meterologist), Warren Heilman (US Forest Service, Research Meterologist)

Webinar presented: Thursday, April 19, 2012
Bringing both national and regional perspectives to the issues, tools and decisions concerning smoke from wildland fires, this webinar highlighted a range of current perspectives, activities, developments and emerging issues for fire practitioners. Gary Curcio introduced the AirFire's Wildland Smoke products and Incident Response Capability and demonstrate the Wildland Fire Decisions Support System (WFDSS) Air Quality Portal that includes Blue Sky & other key smoke tools. Kari Fleegel outlined how your local NWS office can help with smoke forecasting, whether its for a small prescribed burn or a large wildfire. A description of how to request and use HYSPLIT (Hybrid Single Particle Lagrangian Integrated Trajectory) Model runs included a discussion of its potential in the Great Lakes area. Warren Heilman brought a future perspective, discussing some of the ongoing smoke monitoring and modeling research that may be important here in the Lake States.

Click here to view recorded webinar
Webinar requires Adobe Flash Player version 8 or higher.
For more information (including links mentioned in the webinar):
Michigan State University and USFS web site for smoke modeling and monitoring research
MODIS Today Satellite Imagery
NOAA Satellite Hazard Mapping System Fire and Smoke Product
NWS Air Quality Forecast Guidance
NWS Fire Weather Homepage
NWS Hourly Weather Graph (NWS Marquette example)
NWS Graphical Forecast - Fire Parameters (NWS Marquette example)
Smoke Specific Burn Category and Dispersion Tables (NWS Greenville-Spartanburg, SC)
HYSPLIT Guide for NWS Spot Trajectories
HYSPLIT Trajectory Runs via NWS Spot (Survey)
HYSPLIT Wildfire Information
Web-based and downloadable HYSPLIT Program
BlueSky Playground

Presenter Contact Information:
Gary Curcio, Fire Environment Lead Forester
IPA Fire Environment Services, LTD
Kinston, NC
email
Kari Fleegel, Incident Meteorologist
NOAA National Weather Service
Weather Forecast Office
Marquette, MI
(906) 475-5212
email
Dr. Warren E. Heilman, Research Meteorologist
USDA Forest Service
Northern Research Station
East Lansing, MI 48823
(517) 355-7740 ext. 110
email