Webinar Archive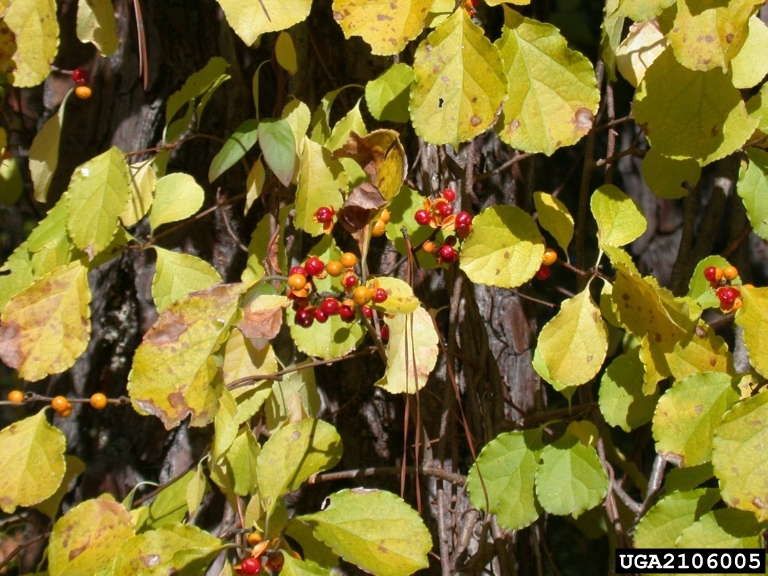 photo: James R. Allison, Georgia Department of Natural Resources, Bugwood.org
Fire effects on the highly invasive Oriental bittersweet
Dr. Noel Pavlovic, USGS Biological Resources Division, and
Dr. Stacey Leicht-Young, University of Rhode Island
Webinar presented: Thursday, October 18th, 2012.
Click here to view the YouTube recorded webinar.
Download a synopsis of the webinar (http://lakestatesfiresci.net/docs/OrientalBittersweet10_18_12.pdf).
Oriental bittersweet (Celastrus orbiculatus) is a highly invasive liana (woody vine) that occurs throughout the Eastern United States. This twining plant can blanket and girdle adjacent vegetation, affecting succession and damaging trees. In areas where prescribed fire is a management tool, the response of Oriental bittersweet to fire needs to be quantified, rather than relying on anecdotal evidence. Currently, in areas already infested with this species, there are no strategies for prioritizing the efficacy of pre- or post- fire treatments on Oriental bittersweet.
Read about Dr. Pavolovic and Dr. Leicht-Young's work with fire and Oriental bittersweet.

For more information on Oriental bittersweet (Celastrus orbiculatus):
Michigan Department of Natural Resources, Best Control Practices
Minnesota Department of Agriculture, Pest Control
Wisconsin Department of Natural Resources, Invasive Species
Midwest Invasive Species Information Network

Presenter Contact Information:
Noel Pavlovic, Ecologist
USGS Great Lakes Science Center
Lake Michigan Ecological Research Station
1100 North Mineral Springs Road
Porter, IN 46304
email
Stacey Leicht-Young, PhD
Adjunct professor
University of Rhode Island
email