Workshop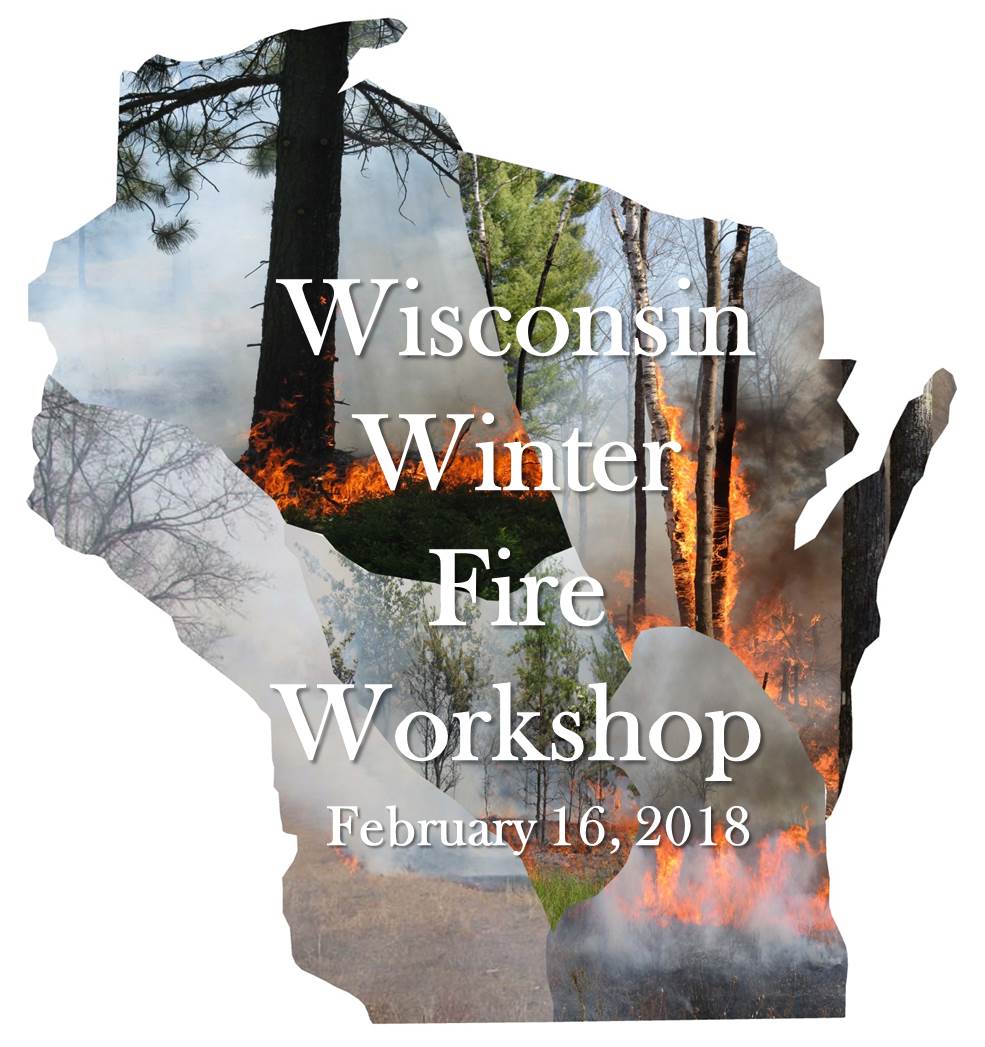 2ND ANNUAL WISCONSIN WINTER FIRE WORKSHOP
Held on Friday, February 16, 2018
The Wisconsin Winter Fire Workshop returned with an agenda designed to foster connections between presenters and other participants, and networking among all members of the Wisconsin wildland fire community.
Whether you are mainly involved in fire suppression, prescribed fire, or research (or all three) you will find content relevant to your work or education.
---
Agenda
Plenary Presentations and Panel Discussion
Burn Timing – Research, Experience, and Application
• Jack McGowan-Stinski –Matching Burn Timing to Desired Fire Effects
• Craig Maier – Growing Season Burn Survey Summary – 2016 Snapshot of Use in Prairie and Oak Ecosystems in the Upper Midwest
• Nathan Holoubek – From the Records in Red Pine to Current Fuels and Fire Effects Research
• Matt Zine – Biodiversity and Burn Timing
Lunch and Keynote Presentation
Keynote presenter Steve Miller will share his diverse experiences with fire - as a land manager, prescribed burn boss, wildland firefighter, and NWCG course instructor
Headfires
This rapid presentation session features an array of wildland fire insights and updates from across the region, and seeks to ignite awareness and further discussion outside of the session.
Use one of the 3-minute-long slots to share an innovation or update from your part of the state. This is your chance to share updates on research, prescribed fire, or wildfire planning/response.
"Seasons of Fire"
Dr. Ron Masters, Professor of Wildland Fire Management at UW-Stevens Point, will share his perspective from a career spanning more than four decades of prescribed fire practice and research.
Closing Remarks and Networking: 3:45-5 PM
---
2018 Wisconsin Winter Fire Workshop Leadership Team:
Adam Gundlach - UW-Madison, Wisconsin Prescribed Fire Council (WPFC) Chair
Michael Hansen - UW-Madison, WPFC Outreach and Education
Michele Jasik - WPFC
Dr. Yari Johnson - UW-Platteville, WPFC
Craig Maier - Tallgrass Prairie & Oak Savanna Fire Science Consortium (JFSP)
Eric Mark - The Nature Conservancy, WPFC
Dr. Ron Masters - UW Stevens Point, Professor of Wildland Fire Science
Jack McGowan-Stinski - Lakes States Fire Science Consortium (JFSP)
Jason Stevens - US Forest Service, Northeast Region
Michele Witecha - Wisconsin DNR Forestry
---