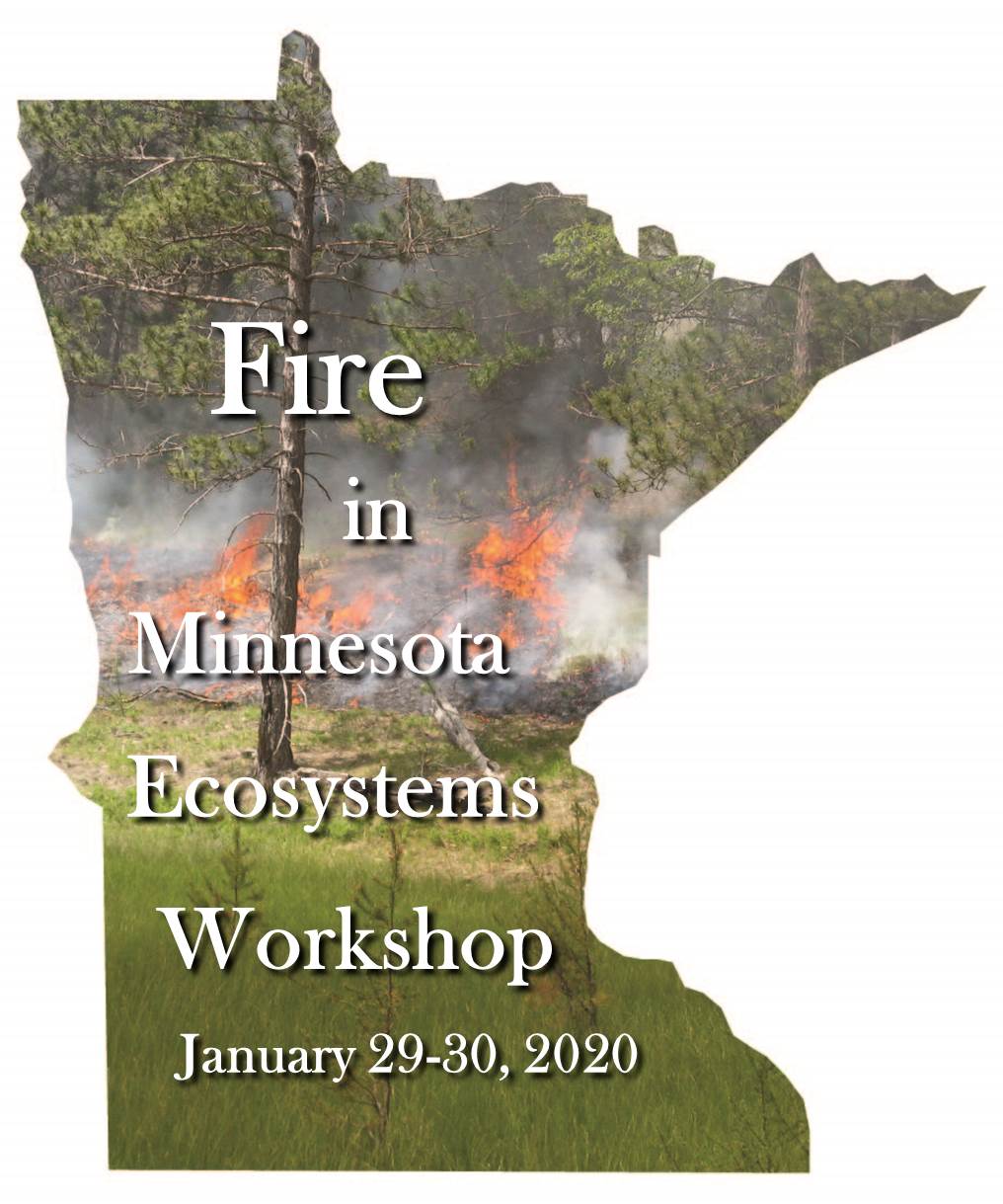 Fire in Minnesota Ecosystems Workshop
Fire is a major driver of ecosystem dynamics across much of Minnesota. Fire suppression, while beneficial, has changed these systems in ways that may threaten long term ecosystem health and productivity. While a variety of silvicultural and other treatments attempt to mimic some fire effects, there is interest in better understanding the roles and outcomes of fire in order to improve the function of our fire-dependent plant communities in the fire suppression era. This two-day event will explore how fire has shaped Minnesota's natural systems and how land managers can safely reintroduce fire where appropriate. Sessions and panel discussions will focus on fire effects in pine- and oak-dominated forest and woodland communities and in the aspen parklands system. These discussions are planned with and for the diverse community interacting around fire-related issues, and seek to build the understanding and communication to support further work toward collaborative solutions.
Offered by the Sustainable Forests Education Cooperative and the Lake States Fire Science Consortium. The Tallgrass Prairie and Oak Savanna Fire Science Consortium, the Oak Woodlands and Forest Fire Science Consortium, and the Minnesota Sharp-Tailed Grouse Society are also supporting this Workshop.

When: January 29-30, 2020
Location: University of Minnesota - Cloquet Forestry Center, 175 University Rd, Cloquet, MN 55720
Registration and Fee: Register through SFEC event page or directly when registration is open.
CEUs: Continuing education credits will be available for this event. Information on CEUs will be posted as it becomes available.
Lodging: Three choices are available within 4 to 6 miles of Cloquet Forestry Center Cloquet, MN: Super 8; AmericInn; or Black Bear Casino Resort (Govt. Rate is not available at Black Bear Casino Resort)
---
AGENDA
Keynote Addresses:
Keynote One: Gregory Nowacki, PhD (Regional Ecologist, Acting Soil Program Leader, Forest Service, Eastern Region) will provide the keynote address exploring and providing a general overview of Minnesota's ecosystems at the Province Level (Boreal, Pine-Hardwoods, Oak-Hickory, Parklands, and Central Plains Prairie), and then wrap up with a focus on the fire-adapted/-dependent oak-hickory ecosystem, the consequences of fire suppression (mesophication), and the need for Rx burning.
Keynote Two: John Almendinger (Ecological Land Classification Program Consultant, Minnesota Department of Natural Resources) will follow Greg Nowacki and provide more detail on Minnesota's fire-dependent ecosystems: fire-dependent pine forests in the Laurentian Mixed Forest Province, fire-dependent oak forests in the Eastern Broadleaf Forest Province, prairie and brushland in the Prairie and Aspen Parklands Provinces.
The three topic areas we will cover over the two-day workshop include (also see time frame farther below):
Oak Ecosystems and Fire
Presenters and Panel:
Managing oak ecosystems with fire in the Eastern U.S. - Daniel C. Dey, PhD, Research Forester, Project Leader, USDA Forest Service, Northern Research Station
Oak fire (scar) history - Michael C. Stambaugh, PhD, Associate Research Professor, Missouri Tree-Ring Lab, University of Missouri
Fire as a mediator of competition among oaks, grasslands and mesic forests - Lee Frelich, PhD, University of Minnesota
Prescribed fire effects on oak timber value - Joseph M. Marschall, Sr. Research Specialist, Missouri Tree-Ring Lab, University of Missouri
Pine Ecosystems and Fire
Presenters and Panel:
Pine fire (scar) history - Michael C. Stambaugh, PhD, Associate Research Professor, Missouri Tree-Ring Lab, University of Missouri
Reconstruction of old growth pine and disturbance factors – Brian Palik, PhD, Research Ecologist and Team Leader, USDA Forest Service, Northern Research Station
Manipulating soil heating patterns to optimize pine barrens restoration – Brian Sturtevant, PhD, USDA Forest Service, Northern Research Station
Managers perspective of reintroduction of fire in pine systems – Patrick Johnson, Prescribed Fire and Fuels Specialist, USDA Forest Service, East Zone Superior National Forest
Parkland Ecosystems and Fire
Presenters and Panel:
Aspen Parkland - a most dynamic ecosystem of northwest Minnesota - W. Daniel Svedarsky Ph.D., Emeritus Research Biologist, NW Research and Outreach Center, University of Minnesota
Prescribed burning (and seasonal effects) to improve management for brushland-dependent species - Rebecca Montgomery, PhD, Department of Forest Resources, University of Minnesota
Strategies for Success: Fire in the Aspen Parklands – Jonathan Eerkes, Land Steward, The Nature Conservancy
DETAILED AGENDA
First Day (January 29, 2020)

0830 – 0900

(30 minutes)

ARRIVAL AND CHECK-IN

0900 – 0910

(10 minutes)

Welcome; Overview of past Fire in MN Forests Workshop 2016; intent for 2020 Workshop

0910 – 1000

(50 minutes)

Keynote One:

Fire-dependent Ecosystems of Minnesota - Nowacki

1000 – 1040

(40 minutes)

Keynote Two:

Fire-dependent Ecosystems of Minnesota - Almendinger

1040 – 1110

(30 minutes)

BREAK

1110 – 1210

(60 minutes)

Presentations:

PART ONE: Oak Ecosystems and Fire – Dey and Frelich

1210 – 1310

(60 minutes)

LUNCH

1310 – 1410

(60 minutes)

Presentations:

PART TWO: Oak Ecosystems and Fire – Stambaugh and Marschall

1410 – 1440

(30 minutes)

Panel Discussion:

Oak Ecosystems and Fire - Dey, Frelich, Stambaugh, Marschall

1440 – 1510

(30 minutes)

BREAK

1510 – 1640

(90 minutes)

Presentations:

Parkland Ecosystems and Fire – Svedarsky, Montgomery, Eerkes

1640 – 1700

(20 minutes)

Panel Discussion:

Parkland Ecosystems and Fire – Svedarsky, Montgomery, Eerkes

1700 – 1710

(10 minutes)

Day One Wrap Up

Second Day (January 30, 2020)

0900 – 0915

(15 minutes)

Welcome back

0915 – 1015

(60 minutes)

Presentations:

PART ONE: Pine Ecosystems and Fire – Stambaugh and Palik

1015 – 1045

(30 minutes)

BREAK

1045 – 1145

(60 minutes)

Presentations:

PART TWO: Pine Ecosystems and Fire – Sturtevant and Johnson

1145 – 1245

(60 minutes)

LUNCH

1245 – 1315

(30 minutes)

Panel Discussion:

Pine Ecosystems and Fire – Stambaugh, Palik, Sturtevant and Johnson

1315 – 1345

(30 minutes)

WORKSHOP WRAP-UP
---
For any questions please contact Jack McGowan-Stinski, mcgowan-stinski.1@osu.edu, 989-287-1734 or Eli Sagor, esagor@umn.edu
---
Organizers and Planning Team (listed alphabetically):
John Almendinger – Minnesota Department of Natural Resources
Paul Dubuque – Minnesota Department of Natural Resources
Matt Graeve – Minnesota Chapter of The Nature Conservancy
Craig Maier –Tallgrass Prairie and Oak Savanna Fire Science Consortium
Jack McGowan-Stinski – Lake States Fire Science Consortium
Brian Palik – Northern Research Station, USDA Forest Service
Mike Reinikainen – Minnesota Department of Natural Resources
Madison Rodman – Cloquet Forestry Center, University of Minnesota
Eli Sagor – Cloquet Forestry Center, University of Minnesota