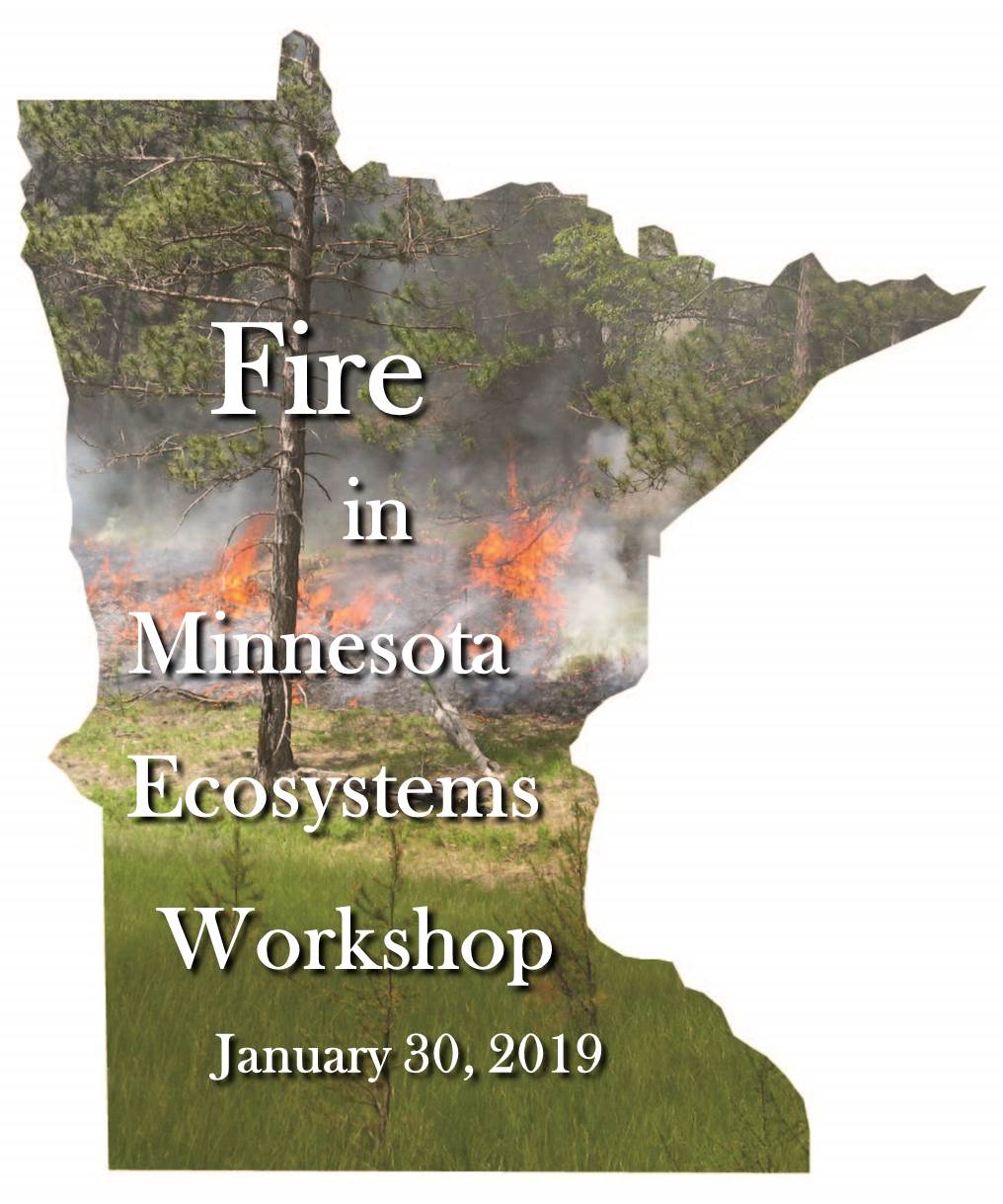 Fire in Minnesota Ecosystems Workshop
Fire is a major driver of ecosystem dynamics across much of Minnesota. Fire suppression, while beneficial, has changed these systems in ways that may threaten long term ecosystem health and productivity. While a variety of silvicultural and other treatments attempt to mimic some fire effects, there is interest in better understanding the roles and outcomes of fire in order to improve the function of our fire-dependent plant communities in the fire suppression era.
This one-day workshop (originally planned as a two-day workshop, but agenda has been adjusted to account for the inability of our federally-employed speakers to attend due to government shutdown) will explore how fire has shaped Minnesota's natural systems and how land managers can safely reintroduce fire where appropriate. Sessions and panel discussions will focus on fire effects in pine- and oak-dominated forest and woodland communities and in the aspen parklands system. These discussions are planned with and for the diverse community interacting around fire-related issues, and seek to build the understanding and communication to support further work toward collaborative solutions.
Offered by the Sustainable Forests Education Cooperative and the Lake States Fire Science Consortium. The Tallgrass Prairie and Oak Savanna Fire Science Consortium, the Oak Woodlands and Forest Fire Science Consortium, and the Minnesota Sharp-Tailed Grouse Society are also supporting this Workshop.

When: January 30, 2019
Location: University of Minnesota - Cloquet Forestry Center, 175 University Rd, Cloquet, MN 55720
UPDATE: Registration and Fee for one-day workshop: $75 SFEC member, $40 students, $140 non-SFEC member. Register through SFEC event page https://sfec.cfans.umn.edu/2019-fire-in-mn-ecosystems or directly https://www.regonline.com/FireinMN.
Special NOTE for those already registered: If you have already registered for the original two-day workshop, your registration fee will be adjusted to the one-day fee, and the extra will be refunded after the workshop. Refund details will be provided at Workshop on January 30, 2019.
CEUs: Continuing education credits will be available for this event. Information on CEUs will be posted as it becomes available.
Lodging: Three choices are available within 4 to 6 miles of Cloquet Forestry Center Cloquet, MN: Super 8 (a block of rooms at Govt. rate $75.59 is available through January 15, 2019 under MN Fire Workshop); AmericInn; or Black Bear Casino Resort (Govt. Rate is not available)
---
REVISED AGENDA FOR ONE-DAY WORKSHOP DUE TO GOVT SHUTDOWN
Keynote Address
John Almendinger (Ecological Land Classification Program Consultant, Minnesota Department of Natural Resources) will provide more detail on Minnesota's fire-dependent ecosystems: fire-dependent pine forests in the Laurentian Mixed Forest Province, fire-dependent oak forests in the Eastern Broadleaf Forest Province, prairie and brushland in the Prairie and Aspen Parklands Provinces.
---
AGENDA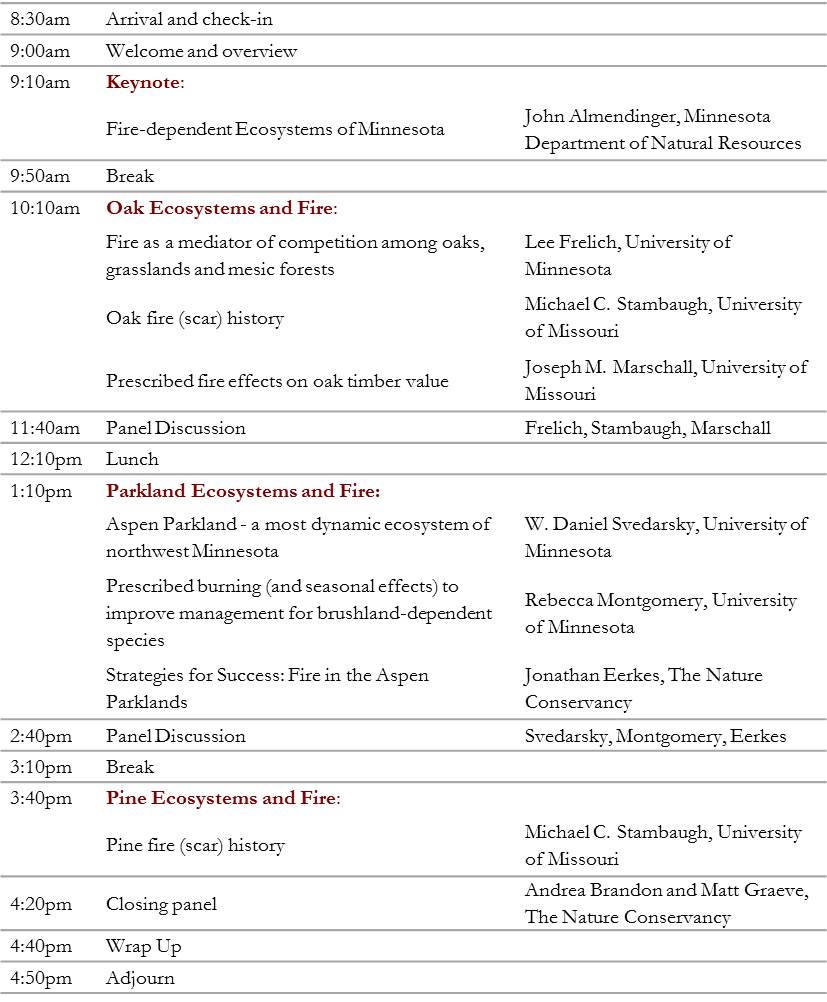 ---
For any questions please contact Jack McGowan-Stinski, mcgowan-stinski.1@osu.edu, 989-287-1734 or Eli Sagor, esagor@umn.edu
---
Organizers and Planning Team (listed alphabetically):
John Almendinger – Minnesota Department of Natural Resources
Paul Dubuque – Minnesota Department of Natural Resources
Matt Graeve – Minnesota Chapter of The Nature Conservancy
Craig Maier –Tallgrass Prairie and Oak Savanna Fire Science Consortium
Jack McGowan-Stinski – Lake States Fire Science Consortium
Brian Palik – Northern Research Station, USDA Forest Service
Mike Reinikainen – Minnesota Department of Natural Resources
Madison Rodman – Cloquet Forestry Center, University of Minnesota
Eli Sagor – Cloquet Forestry Center, University of Minnesota