FIELD TOUR - Cloquet Forestry Center and Fond du Lac Reservation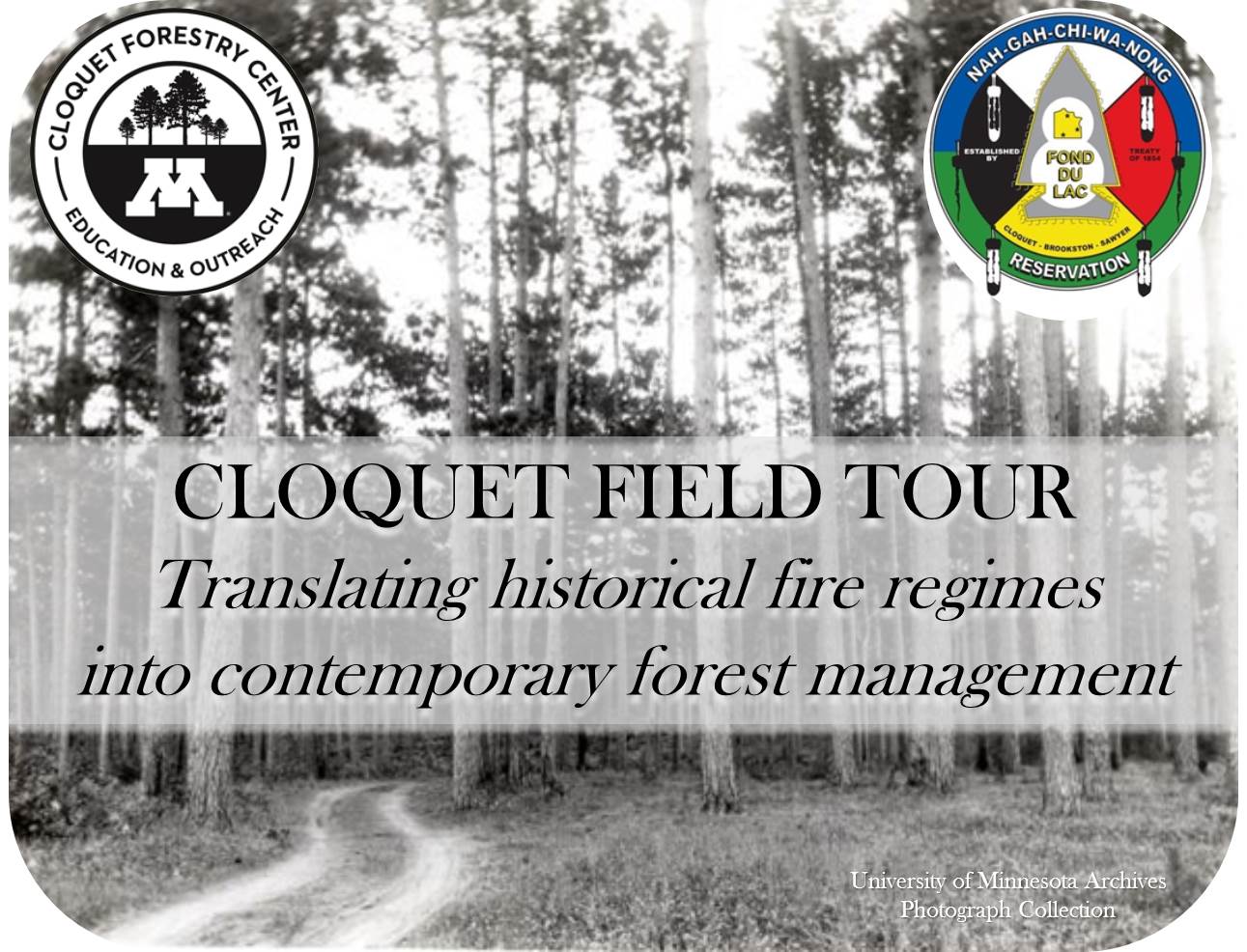 CLOQUET FIELD TOUR
Translating historical fire regimes into contemporary forest management
Hosted by the Fond du Lac Resource Management Forestry Program and the University of Minnesota - Cloquet Forestry Center
WHEN: Wednesday, September 20, 2018
WHERE: Rally Point and field tour introduction and overview - University of Minnesota Cloquet Forestry Center, 175 University Rd, Cloquet, MN 55720
OVERVIEW:
We will be visiting four field sites - two sites at Cloquet Forestry Center (CFC) and two at Fond du Lac Reservation (FDL):
CFC "Camp 8" to discuss historical fire regimes (reserve stand of 1820s origin pine)
CFC red pine understory treatments study (Gilmore/D'Amato project plots) to discuss research and burn experiment, and options moving forward
FDL Deadfish Lake to discuss blueberry burns, and riparian management with fire (bonus discussion on FDL history and wild rice management)
FDL white pine shelterwood, with three past understory burns, to discuss multiple burns and temporal regeneration expectations
Optional #5 site visit to CFC's 1850s origin Rook sale (Firewise thinning) – option during the "lunch" break or at end of main field tour
To Date - WORKING AGENDA and TIME FRAME:
0730 - 0830 Check-in at Cloquet Forestry Center Parking Lot
0830 - 0900 Overview Presentation of FDL Forestry Program and the CFC
0900 - 1200 Group One to CFC field stops; Group Two to FDL field stops
1200 - 1230 brown bag lunch at the CFC pavilion
1230 - 1530 Group Two to CFC field stops; Group One to FDL field stops
1530 - 1600 Wrap-up at CFC pavilion
1600 – Depart, or Optional #5 stop at CFC's 1850s origin Rook sale (Firewise thinning)

TOUR LEADERS:
Kyle Gill & Lane Johnson, Cloquet Forestry Center
Steve Olson & Christian Nelson, FDL Forestry
Evan Larson, University of Wisconsin-Platteville
COST and REGISTRATION:
This Field Tour is FREE – we will be asking for a RSVP headcount to coordinate enough handouts for all, and caravan/carpooling tour logistics. PLEASE RSVP with your name and number in group to Jack McGowan-Stinski, or 989-287-1734, subject line "Cloquet Field Tour RSVP".
WHAT TO BRING:
Bag lunch and water
Long pants and sturdy boots or shoes recommended (Please clean boots/shoes BEFORE field tour to remove potential invasive plant seeds)
Insect repellent, sunscreen, and stories to share
Field Trip is rain or shine, so please dress for the weather!
---
Questions about Field Tour? Contact Jack McGowan-Stinski, Lake States Fire Science Consortium (by email, or call 989-287-1734)
For FLYER Click Here
Additional information will also be added to this webpage